An amusement park in China has come under fire after forcing a pig to perform a bungee jumping attraction. This poor pig was recorded in a video circulating on Weibo social media on Saturday (1/18/2020).
In the video we see a pig weighing 75 kilograms tied to a pole carried by two amusement park officials on a metal ladder. After reaching the top, the officers tied the pig with a rope that was used for bungee jumping and pushed it to jump from a platform as high as 70 meters.
Pork Forced Bungee Jumping Attraction. (Youtube screenshot)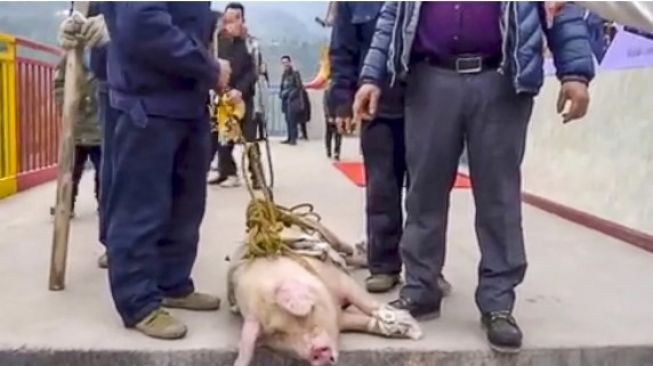 Pork Forced Bungee Jumping Attraction. (Youtube screenshot)
When the animal falls, cheers and people laugh when they see it. While before being pushed, came the sound of a squealing pig as if trying to rebel.
After widely circulating on social media, the action drew criticism from many people. Chinese citizens call the tape looks very torturing the pig.
According to a statement from an amusement park public relations representative, said the action was part of the entertainment and it was normal for pigs to get a surprise before being slaughtered. According to local reports, the animal was sent to a slaughterhouse after the incident occurred.
"I did not see anything funny in the video," wrote a user on Weibo, as quoted by the South China Morning Post.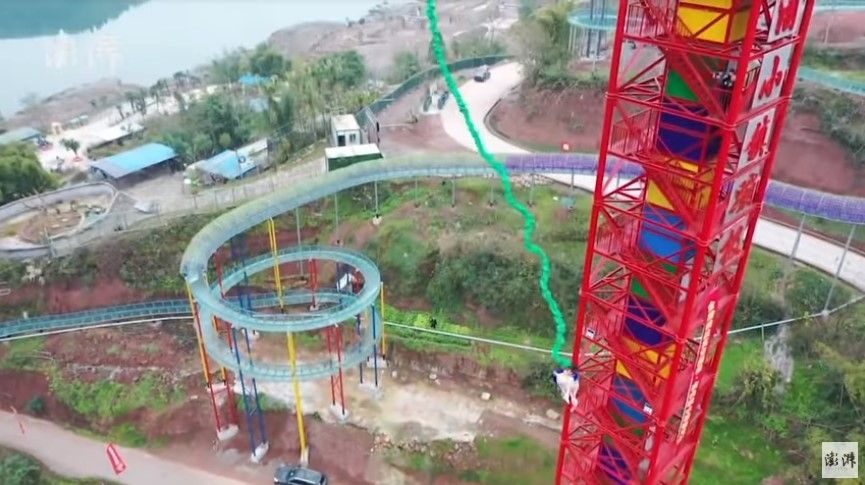 "Why would anyone laugh? Just because the animal cannot express fear does not mean he is not afraid," wrote another Weibo user.
According to a report on Thecover.cn, the attraction was carried out to mark the opening of the bungee jumping at the Mexin Wine Town amusement park in Chongqing City, southwest China.
The owner of the unnamed amusement park also said that the attraction was carried out to mark the end of the Year of the Pig and the beginning of the Year of the Rat.
Reporting from IFL Science, the amusement park also has issued a statement of apology for the incident.
"We sincerely accept criticism and suggestions and apologize to the public. We will increase the marketing of our tourist sites to provide better services to tourists," the amusement park wrote in a statement.
Although China does not have any laws to protect animal rights, the attraction has drawn strong criticism from animal welfare groups.