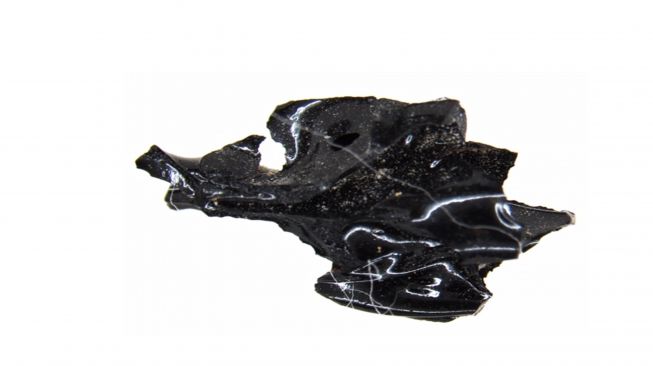 The color is black and shiny like an  agate  in general, but a recent study shows that a stone fragment in Italy is a splattered brain of victims of the eruption of  Mount Vesuvius  in 79 AD.
Anthropologists who for years have examined the skeletons and body remains of victims of the terrible eruption called the brain's findings sensational and unique. 
The study was published Thursday (1/23/2020) in  The New England Journal of Medicine .
The stone was investigated initially because it was found in the skull of one of the victims of the historic disaster.
"In October 2018, I found the skull and saw something sparkling inside the skull that had broken," said Pier Paolo Petrone, one of the researchers in the study.
Petrone, who is a forensic anthropologist at the University of Naples Federico II, knew from the start that the sparkling black stone was  the human brain .
The stone was then examined by Piero Pucci in the CEINGE biotechnology laboratory in Naples, Italy. 
The results show that the stone contains protein and fatty acids from hair and the human brain.
The sparkling black stone was found at the ancient site of Herculaneum, near Pompey. 
It was a popular vacation spot for the elite of Pompey. 
When Vesuvius erupted, the city was swept away by lava as high as 16 meters.
The skull in which there was a black stone from a scattered brain was thought to belong to the guards of the College of The Augustales, a cult of Emperor Augustus. 
The remains of his body were discovered in the 1960s on a wooden bed.
The petrified brain is thought to have been exposed to heat from lava whose temperatures reached 520 degrees Celsius.
 As a result, the victim's body fat and tissue evaporated in an instant.
"High temperatures from lava burn the body's fat and soft tissues, causing the victim's brain to turn glassy," the scientists explained.
Further studies also show the victims in the study died not from heat, but because of the volcanic gas released by the volcano.